Because of the Fourth of July fireworks, it's been a little too noisy for me to go outside. But finally things have quieted down, so my human took me on a brief after dinner walk. We started by going out the kitchen door.
From there, we went up the stairs to the back.
We went up the pathway but I decided to skip the bridge this time.
Instead I headed right for the back patio.
I hung out on the built-in planters for a while and watched birdies. See that weird head on the wall behind me? That was here when we moved in. A normal person would probably have gotten rid of it, but my human would like to add more faces at some point. And maybe a Buddha statue.
Well, that was really about it! I'm sorry it wasn't more interesting.
* * *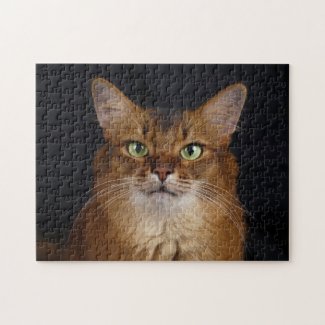 Somali Cat Photo Portrait Jigsaw Puzzle
See all of Summer's merch at her
her Zazzle Designercat Shop