My human has been a whirlwind of activity, getting ready for the BarkWorld Expo and making sure I have posts to carry me through her return on Sunday (oh, and her own photo blog too, but who cares about that?). Already, I disapprove of some of these goings on — look what she brought back from the pet store when she was making sure we had sufficient food.
Ugh! It's a dog necklace! She got it on sale because spring is long gone. So it has two strikes against it: not only is it for dogs, it's also last season's necklace. Oh, and it's a necklace, period. Make that three strikes.
I really didn't need this. I'm not even going! Besides, I hear that the BarkWorld humans actually take good care of kitty bloggers. Rumor has it we are getting our own swag bag of cat stuff!
Oh, look who's here! It's time for me to take a nap break. Somewhere hidden.
It fits her better anyhow.
* * *
---
---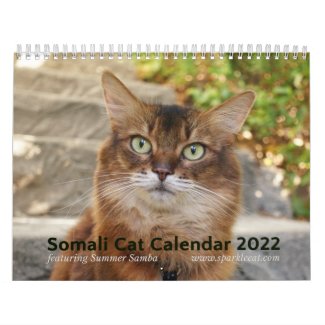 2022 Somali Cat Calendar Starring Summer Samba
See all of Summer's merch at her
her Zazzle Designercat Shop