If you Like my Facebook page, you may have seen this pirate photo of me a few weeks ago. My human was trying to come up with a caption for a card and we were looking for suggestions. Nobody came up with something exactly right, but they did inspire something she will probably use. Scroll over my photo if you want to see what it is.
The whole reason this photo shoot came about was that my human was shopping one afternoon, and saw a bunch of nutcrackers as different characters — and there were only two that were pirates! Plus they were 50% off. So she grabbed the less shabby-looking one and brought it home. And made me put on the pirate costume again for a bunch of pictures. One even wound up in my 2015 calendar:
It is September's photo, of course, because that is when "Meow Like a Pirate Day" happens!
But it took a while to get some really good shots.
I confess: I tried to eat the nutcracker pirate's hat.
I did not mind wearing the costume, even though the hat kept falling over, because it meant I got to play with my favorite Neko Fly!
I did get tired after a while — all that modeling is hard work!
I also started goofing off… but can you blame me? Even if I'm competing in cat shows as an adult, I'm still just a nine-month-old kitten!
* * *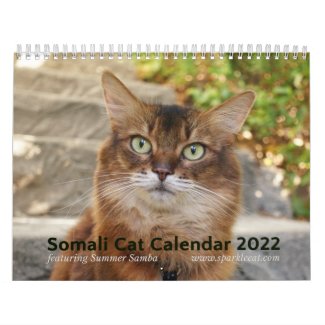 2022 Somali Cat Calendar Starring Summer Samba
See all of Summer's merch at her
her Zazzle Designercat Shop