It was in the 80s this weekend in southern California! While this is wrong for so many reasons, it didn't stop my human and I from going outside and enjoying the weather.
I even got to go off road and make happy paws in the dirt. It felt so good!
Of course, my human used the opportunity to take some portraits of me.
I also spent some time on the stairs and walkway, like normal.
And, like I often do, I got to hang out on the wall for treats.
And of course, I posed some more!
I hope you enjoyed my outing! I sure did. Don't get too envious — the weather is getting back to its normal California cold in a few days (highs in the 50s, lows in the 40s and even 30s). We may even get some rain!
Other posts you'll enjoy:
* * *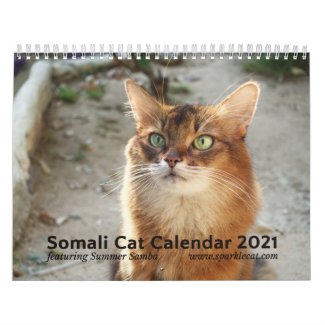 2021 Somali Cat Wall Calendar, Starring Summer
See all of Summer's merch at her
her Zazzle Designercat Shop