There is regular Cat World Domination, and then there is… Tortie Cat World Domination! Like with everything else they do, tortoiseshell cats take it a step farther. And look no further than Binga to have her very own set of rules. Here they are:
1a. If somebody disagrees with you, whap them.
1b. If somebody has more food than you, whap them.
1c. If somebody looks at you funny, whap them.
1d. When in doubt, whap them.
2. Make sure you get all the treats.
3. When humans are eating, you get some too. If they are reluctant to give you your fair share, walk right up to the plate and demand it. "Demand" means "take."
4. Extreme purring is not a gift; payment is expected.
5. Petting is allowed and accepted gratefully, but tummy petting shall be punished.
6. Everything in the house, including the bed, all the food (human and feline), the dog and the humans belong to the tortoiseshell cat.
7. Bite when extremely annoyed.
8. Strangers are invited to worship. Or else.
9. Everyone is dirty and needs to be licked clean.
10. Tortoiseshell cats shall never be denied.
* * *
---
---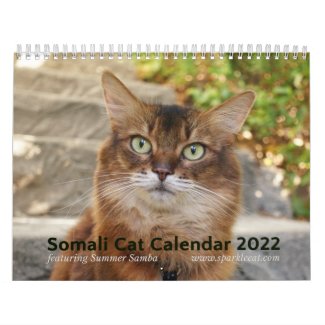 2022 Somali Cat Calendar Starring Summer Samba
See all of Summer's merch at her
her Zazzle Designercat Shop