It's interesting how many different types of people I meet on my therapy cat visits! Often many of them even speak different languages and come from completely different cultures. The first patient I saw wasn't in bed. He was sitting in one chair, with his feet propped up on the other chair. So I wound up going from one chair to the other. He enjoyed me, and he was the only one who actually asked my human to take a photo of us together.
We almost didn't visit with another man we walked in on — he was busy with a plastic container… it turned out to be a portable urinal! But he wanted to see me, so he just hung it on the side of the bed, and I spent some time with him. Another patient we almost didn't visit was a very elderly Asian lady. My human reluctantly asked if she wanted to see me, worried that maybe the woman didn't speak English or was too sick to understand why we were there. But a nurse in the room let the lady know that we were special visitors. Then her face lit up, and she petted me for a few minutes.
These were really nice visits, but two others impressed me and my human the most. The patients were both women, with their husbands visiting. The first woman was groggy and one of her arms was horribly swollen. She was another one we almost didn't visit because my human thought she probably wanted to sleep. But her husband saw me and said, "Look, there's a kitty here!" and her face lit up through all the meds and the pain. Both she and her husband were covered in tattoos and looked as if they had seen some rough times. The husband asked my human if I ever visited prisons. She said that as far as she knew, our organization hadn't contracted with any. (In case you are wondering, yes there are animal therapy programs in prison.) We stayed until the husband had to leave.
The second couple we visited were chatting when we walked in. There were several issues of The New Yorker on the bed, and the husband was dressed in expensive clothes. They were delighted to see me. The husband took some photos of me with his phone because he wanted to show me to some cat loving friends of his. The funny thing about this visit was that there was some plastic device that kept beeping really loudly every few minutes, even though the patient kept turning it off. But I barely reacted to it, other than giving it a glance. I think it bothered my human more than me! Finally the nurse came and shut it off. We stayed with this couple until the husband had to leave too.
The funny thing about both couples is that they couldn't have been more different… but they both had exactly the same reaction to me. And the husbands were both being good caretakers of their wives. So in a lot of ways they really weren't different at all. And they got the same look on their faces as the other people who saw me when I first came in. When I visit patients, I don't see the differences at all… because really, there are none.
* * *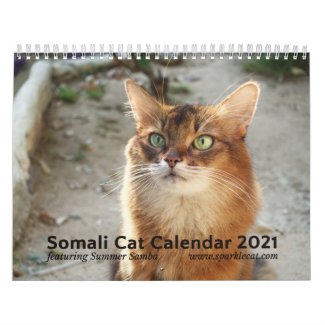 2021 Somali Cat Wall Calendar, Starring Summer
See all of Summer's merch at her
her Zazzle Designercat Shop