If my breeder has a cat at the same cat show where I'm competing, she and my human bench next to each other. At first she wasn't going to be at the San Diego Cat Show this year, because Sunday night she was delivering a kitten to the airport, where she was going to be hand carried to a Brazilian breeder. But then she changed her mind and decided to show the kitten before her journey — this 6-month-old girl has a big career ahead of her as a show cat down there and will be part of a breeding program. My breeder wanted her to spend the weekend getting used to the crazy cat show atmosphere because it was only going to get more hectic once she got to the airport! So here she is — her name is Ruby and I thought you might want to meet her for a very special reason: see the cat on the magazine cover behind her? That is her grandfather, Miles Davis. And those of you who have been following this blog for a long time know that Miles Davis was Sparkle's father… so Ruby is Sparkle's niece!
Unlike Sparkle and I, Ruby is a red Somali. It's hard to tell under the ugly showhall lighting, but she is actually a really rich, red color! Sometimes ruddy-colored Somalis look a little reddish — Sparkle did — but if you see a ruddy and a red next to each other, it's obvious which is which! Plus we ruddy Somalis have black paw tufts and deeply hued paw pads. The red Somalis have dark red paw tufts and cute pink paw pads!
Of course, since Ruby is still a kitten, she is a little bit goofy! Oh, you see the handsome cat in the photos behind her? That's her dad, Aslan… who is also my dad! So we are half sisters (Miles is her grandfather on her mother's side).
To be honest, my breeder was not expecting Ruby to do much at the show. We Somali cats develop slowly, and we usually don't look all that impressive as kittens. Plus on a red, it's hard to see the ticking — the bands of color that are distinctive of our breed and it makes it harder for judges. Ruby's fur is in the middle of changing from kitten-y fluff to a more adult coat too, so she had a lot that wasn't in her favor — not to mention that there were kittens from all over the U.S. at this show! But she had lots of fun on the judging tables… and she did manage to final in one ring!
She got 15th Best Kitten in this ring, so she just barely got in, but she was very happy to be up there! I love the American Shorthair girl behind her, cheering her on. That kitten got the 12th Best ribbon.
My human was proud of Ruby too, because she spent the weekend helping my breeder and running her around to rings. It was good practice for Ruby, who had to say good-bye to our breeder that evening and meet more new humans, including her very own new human in Brazil. I hear she is already settled in her new home and enjoying it there — and there is already a boyfriend lined up for her when she grows up some more! I have to confess, I may be a little bit jealous: she gets a handsome ruddy boyfriend… and I got Binga!
Boa sorte, Ruby! I know you will have an amazing life!
* * *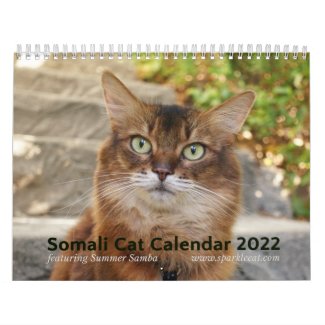 2022 Somali Cat Calendar Starring Summer Samba
See all of Summer's merch at her
her Zazzle Designercat Shop