My human is finally able to go out and do stuff! So she took me on a quick trip to the pet store to pick up some cat food. I purred the whole trip, I was so happy to get out of the house.
We didn't get any kitty litter, although I did get to sit on one of the shelves in the aisle.
The food thing is complicated with all of us. Binga gets high quality canned food because she doesn't like most raw (sometimes she'll eat the freeze dried because she thinks the chunks are cat treats). Boodie gets freeze dried raw because she throws up the frozen raw. Smokey, the upstairs foster gets the frozen raw, except she's allergic to chicken. We rarely eat the same food at the same time! Are any of you kitties as difficult as we are?
My human picked out what we needed, and all too soon, it was time to check out. There was a little dog in the store who kept staring at me like he couldn't believe there was a cat on a leash. That is who I am looking at in this photo.
I was a little bummed I didn't get to check out any of the toys, and only got to visit with a couple store employees. (The one at checkout recognized me from previous trips!) My human hadn't had lunch yet, and I think that's why she sort of rushed me out of there. Well, at least I got out. I hope next time it's a longer trip!
* * *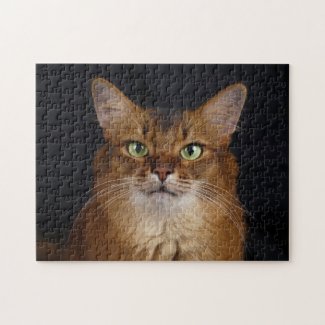 Somali Cat Photo Portrait Jigsaw Puzzle
See all of Summer's merch at her
her Zazzle Designercat Shop