My first therapy cat visit of the new year was to one of my regular hospitals. As is usual with this particular hospital, I dropped in on the Pediatrics unit first. There were a lot of patients, but many of them were in ICU. That means they were in isolation and couldn't see me. Unfortunately, that happens a lot during this time of year. It's the germy season.
One of the patients I did get to see was a little girl who had swallowed a coin. She was very sweet and gentle with me. Her mother told us that they have a chihuahua at home, so maybe that was why she was so good. Kids with small pets are often better with me. The girl petted me very nicely and posed with me for one of the photos that my human takes with the Polaroid camera. Sometimes the parents think there's a fee for this, and my human has to explain that it's a courtesy from the hospital and our group.
The next patient we saw an older boy, maybe about 14 or 15, and he was delighted to see me. He and his family asked some questions about how I became a therapy cat and if it was hard to train me. My human explained that I already had a sweet temperament, and she just helped me with my social skills by entering me in lots of cat shows and taking me other places too. After a couple of years of doing that, I was ready for the evaluation and I passed.
The only other patient in Pediatrics was a baby who was sleeping (the grandmother thought I was a dog at first!). So I went next door to PICU. All the patients there except one were in isolation. The one we could see was a young boy who was in bed. At first he was scared of me! That happens sometimes when children aren't around pets. But he cautiously touched me… and touched me again. Then he relaxed, and I was able to stretch out on the bed. It was obvious that he didn't really know how to pet a kitty, but he was more awkward than rough. He kept waving balls at me like I was a dog, and of course I didn't care about those! It was funny, but my human kept an eye out to make sure he wasn't bothering me too much.
After that, we were going to do more visits, but the other team, who had been off taking care of some business, said we should stop for the day. There was some sort of inspection going on at the hospital, and usually when that is happening, we don't do visits. So it was a quick therapy cat day for me!
* * *
---
---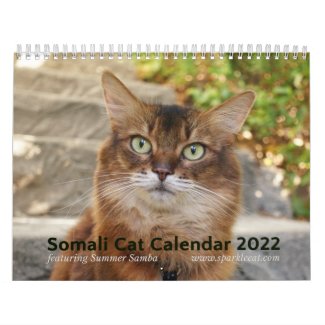 2022 Somali Cat Calendar Starring Summer Samba
See all of Summer's merch at her
her Zazzle Designercat Shop