I am really excited about what came in the mail for me! It's a symbol of my high professional standing!
It's a Cat Writers' Association mug! I am a cat and a writer, so it was clearly meant for me.
Because of my prominence as both a cat and a writer, I am pleased to call this mug my own.
This is the logo for the Cat Writers' Association. You might be able to tell that it was designed by my friend Katie's human, Glogirly.
Glogirly put the mug design together on a whim, so you might say I got the prototype. I just want to add that it is an honor to be a member of such an awesome organization. We cats who write should have our own group so we can support and learn from each other!
Wait a minute! You mean the Cat Writers' Association isn't run by cats? It's made up of humans who write about cats? And the mug belongs to my human, not me? But that is so wrong! All these humans in the Cat Writers' Association would be nothing if not for us kitties! Nothing, I tell you!
And all this time I thought my human was going to their conferences as my representative.
By the way, my swag giveaway from the most recent CWA conference will start Monday!
* * *
---
---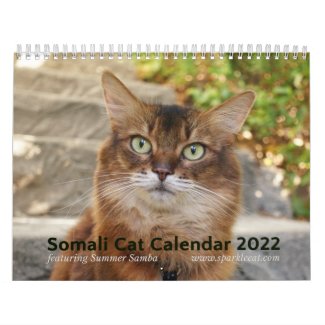 2022 Somali Cat Calendar Starring Summer Samba
See all of Summer's merch at her
her Zazzle Designercat Shop