For this Throwback Thursday, I thought I'd go way back to an earlier, more innocent time: January 2016. It was a pretty busy month! I'll show you a few highlights.
I have to say the year did not get off to a good start — this was the aftermath of the New Year's Eve party I threw!
That was also the month that Binga started going outside on a leash, at the age of 15-1/2. As you can see, I was not thrilled about this! Eventually my human only took out one of us at a time, since she had a hard time managing us both.
We got this mechanical cheese and mouse toy to try out that January. As you can see, I was more interested in a pipe cleaner than I was with the toy. I think the toy eventually got donated to a cat rescue.
I was still competing in cat shows. I did well in this one, which happened in mid-January! This was actually my last full season of competition.
And of course, I was traveling and having fun in hotel rooms, relaxing and supervising my human.
My only regret from that January? I never did finish my driving lessons!
I hope you enjoyed my look back! What kind of memories would you like to see the most from me? Let me know in the comments.
Other posts you'll enjoy:
* * *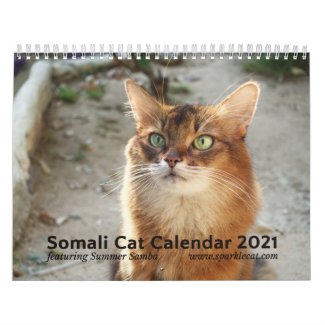 2021 Somali Cat Wall Calendar, Starring Summer
See all of Summer's merch at her
her Zazzle Designercat Shop