My human wasn't happy with any of the Fourth of July props she saw this year. And the ones we already have were used in multiple photo shoots. Since I normally share outtakes on Sunday, I thought it would be fun to look at my Fourth of July outtakes throughout the years. So here you go! The one above, where I look supremely awkward, is from 2016, when props (if not life) was simpler.
Here I am a year later, in a typical photo session pose… I'm walking off the set to ask for a treat! Hey, modeling is a lot of work, and I need to keep up my energy.
Here's one from another photo session the same year (the backdrop was clearly too busy to be behind me). Apparently, my attitude hadn't improved much since the prior session.
There were a lot of outtakes from that Fourth of July session!
Things had improved a couple of years later. (We didn't have a Fourth of July photo session in 2018.) A photo from this group wound up in my 2020 calendar.
This, in spite of some glaring mistakes on my human's behalf. Like photo bombing me with this cat toy. You can tell by my face (what you can see of it) how annoyed I was.
And this one is from last year. Happy Independence Day to all my U.S. pals. I hope you are all having a great holiday. I am!
Other posts you'll enjoy:
* * *
---
---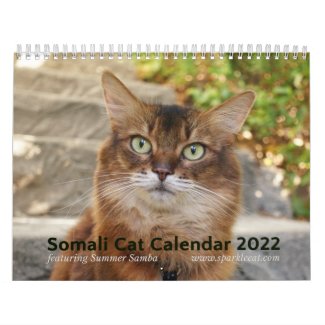 2022 Somali Cat Calendar Starring Summer Samba
See all of Summer's merch at her
her Zazzle Designercat Shop