I had a big weekend — I competed at the San Diego Cat Show! It is a huge show and cats come from all over the country to be in it! It is one of the events of the year if you're a show kitty. My human and I are lucky — it is less than a two-hour drive to get to the show hall and the hotel from where we live. The hotel was pretty nice — I found out when my human was still bringing stuff in the room from the car and I decided to brush past her legs and go trotting down the hallway! That was fun until she caught me. She tried to keep me entertained in the room with toys, hoping I'd forget about going out the room's door.
I was a little nervous about this show. With so many top cats coming down, I knew the competition was going to be really tough. Even though I was only 10 points away from being a Grand Premier (which is a cool accomplishment for a show cat to have), I was not sure if I was going to make it. No other Somalis showed up in the Premier class, so the only way I could earn points was by getting finals, and you should have seen some of those amazing cats!
But there was a lot more to see too, in addition to the show cats…
Like this fantastic cat tree! I really wanted it, but my human said there was no way to get it back home.
No, this is not my human's car… although I could totally imagine her getting this paint job. I think would have to get a new boyfriend if she did, though.
In addition to the show kitties, there was a celebrity kitty in attendance — Racy Mooner! She came all the way from back east to be here! Her human always has a booth with Sturdi products, including the walking vest she helped design.
There was also a woman who makes awesome pet bowls, including this ingenious beehive water bowl that is supposed to be "never spill." My human has been waiting for this person to show up at a cat show we were attending so she could get one, and she did! And guess what? I figured out how to tip it over! It's my human's fault — she put it in my bed in my Sturdi enclosure, and when I decided to have a tantrum because I wanted out, I flipped a corner of the bed — and the bowl — over! After that, she said I had to come out of the enclosure to drink out of it. Which is kind of what I wanted anyhow.
These cat shows aren't just about show cats, by the way! Most of the time they have rescue cats available for adoption, and this big show had lots of them! Recognize the kitty in the photo? My friend Cathy Keisha claims it is her "long-lost sister, LaTasha," but I wonder if she's the one that has been doing some modeling on the side.
Anyhow, you are probably wondering how I did… and I surprised myself! The cats who are already Grand Premiers usually get preference in judging, but in my very first ring, the judge really liked me and finaled me! And then I finaled in another ring, which is the one you see above. The very first day, I finaled in three out of four rings! Because I am still new and the other cats were gorgeous, I scored more towards the lower end of the finaled cats, but it was still way more than enough to give me Grand status!
The cool thing about granding on the first day of a two-day cat show is that your human fills out some simple paperwork and you get to compete as a Grand the next day! So that is what my human did — my breeder was there, and she showed her how to do it.
I finaled in two more rings the next day, so it was a great weekend for me! My human was just hoping to Grand me, but I did that and then some!
It was an exhausting weekend, though! I confess, during the last ring, when I was in the cage waiting to be judged, I actually curled up and took a nap! (I did not final in that one.) I couldn't wait to get back to my Sturdi enclosure and chill out for a bit before going back to the hotel.
But what's even better than getting lots of ribbons and being a Grand Premier? Getting a brand new Sturdi walking vest from Racy Mooner's human! My human bought it for me as a gift.
After we got back to the hotel and rested up for a bit, my human snapped the vest on me and we did what I'd been wanting to do the whole weekend — wander up and down the hotel corridors! I even got to go up a flight of stairs and come down in the elevator (my human held me for the elevator part). That was my favorite part of our trip!
Stay tuned — you get to meet someone tomorrow from the cat show who I think you will like a lot!
* * *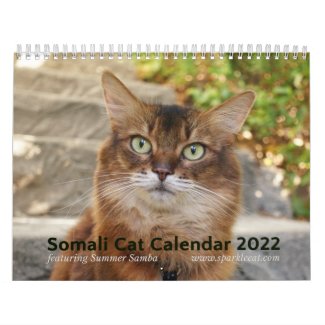 2022 Somali Cat Calendar Starring Summer Samba
See all of Summer's merch at her
her Zazzle Designercat Shop