My human managed to find enough elastic cord for the graduation cap you saw the other day. She thought she was going to get some awesome photos of me wearing it. Well, things did not work out that way. First I flopped down on the set and relaxed while she set up… and didn't feel like moving!
Eventually I did get up, but it took waving the cap's chin strap around like a toy.
The hat was an awkward size for me, and the chin strap needed some work.
We messed around with it, but nothing seemed to work quite right.
In fact, more often than not, it was all wrong!
In case you are wondering, it doesn't stay on very well when you are walking to the stage to get your diploma either.
So it's back to the drawing board with this graduation cap! At least it made my human laugh for most of our 15 minute photo session — and she's had a really annoying week. One of those weeks where nothing bad happened, but there was a bunch of stuff that made day-to-day things difficult. She needed some fun.
And to be honest, I had fun with this photo session too!
Other posts you'll enjoy:
* * *
---
---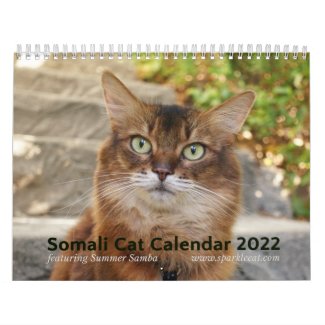 2022 Somali Cat Calendar Starring Summer Samba
See all of Summer's merch at her
her Zazzle Designercat Shop