This visit to the children's hospital started off a little different. One of the staff mentioned that there were a couple of kids up in post op, so my human decided to take me there first.
The first girl was already awake and I got to hang out with her on the bed, which I always like. The second girl was still a little groggy, and there wasn't room for me on the recovery bed. But it was still nice to see her. And the staff is always happy to see me too.
The lobby was pretty quiet except for the crafts area. My human rarely takes me over there because she knows I will just walk all over the craft supplies… because when all is said and done, I am still a cat! But the children came to me instead, a little girl with her older brother, and a girl wearing leg braces who was in a wheelchair. When the wheelchair-bound girl held out her hand, I patted it gently with my paw.
We finished up by visiting the exam rooms. I sat near the first boy on the couch in the room for a photo. The next room had two young kids and their parents. The children had some sort of disability. The girl was delighted to see me, but the boy barely noticed me. He was crying during my whole visit, but I wasn't bothered by it. My human made sure the girl was able to pet me while still making sure she wasn't handling me roughly.
Finally we finished up with a little boy who was there because he had an injured foot. He really enjoyed petting me because the family cat at home was shy around him. He was very nice with me, and he tried shaping my fur into a mohawk style. His mother said he probably shouldn't do that, but you know what? My human helped him! I didn't mind, and besides, my hair doesn't do a mohawk very well anyway.
It was a fun visit.
Other posts you'll enjoy:
* * *
---
---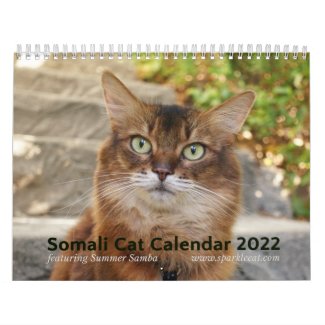 2022 Somali Cat Calendar Starring Summer Samba
See all of Summer's merch at her
her Zazzle Designercat Shop