Happy International Box Day! This is a really awesome day, and a great opportunity for humans to have a fun, inexpensive play session with their cats. Don't just leave a box out and leave your cats to themselves. Grab some treats, and get to playing!
My human loves to toss treats into boxes for me! It's one of my most favorite games. I will jump in and out of one or more boxes for as long as she's willing. (She wears out way before I ever do.) And for International Box Day, she shot and edited a short (28 second) video for your enjoyment.
So what are you waiting for? The video is below. Check it out, and let me know if you play this game with your cat!
Other posts you'll enjoy:
* * *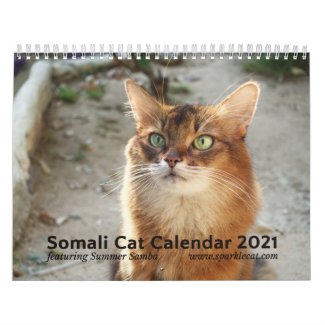 2021 Somali Cat Wall Calendar, Starring Summer
See all of Summer's merch at her
her Zazzle Designercat Shop