I wanted to offer a brief thank you for all your words of sympathy, messages, and cards since we lost Binga. We got these physical cards from Laila and her human, the 15 and Meowing human, a friend and neighbor of my human's, a card from the vet who came over for Binga's euthanasia, and a card from the vet clinic signed by, I think, nearly everyone who took care of Binga there. (We didn't have one particular vet, so several of them signed.)
Plus Ann of Zoolatry made this badge.
Plus this beautiful card from Pipo, Dalton and Benji's human.
I think our favorite thing came inside the vet card.
We are still thinking of where to plant it.
* * *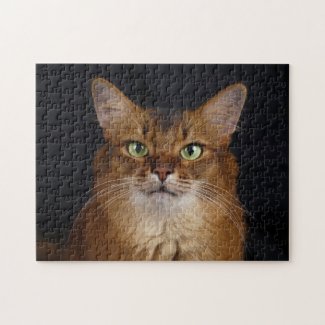 Somali Cat Photo Portrait Jigsaw Puzzle
See all of Summer's merch at her
her Zazzle Designercat Shop