I thought it was going to be dark and rainy all week. And mostly it has been. But there was one day where it was actually sunny all day! In fact, it was nice enough for be to be able to go out. My human took a couple of my new spring dresses along so I could model them outside. That had been the original intention, before the weather got cruddy.
I actually think this looks better outside than it did in my studio.
My human tried (again!) to get a photo of me sitting up, and I ended up looking as awkward as ever.
I also got to wear my Paris dress. My human didn't bring out my flapper dress because she has some ideas for it that don't involve being outside around my house.
For whatever reason, I wasn't as good about posing in this dress this time so you could see the writing on the back. But as you can tell, I did try.
My human also tried to get a photo of me sitting up in this dress, and was equally unsuccessful.
In spite of the bad shots of me sitting up, I still think this was a pretty good photo session. Don't you?
* * *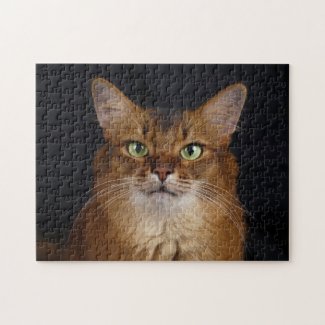 Somali Cat Photo Portrait Jigsaw Puzzle
See all of Summer's merch at her
her Zazzle Designercat Shop