I was tagged by the Tiniest Tiger for something very special: The Tripbase Blog Post Project. Its aim is to unite bloggers of all genres and create a bank of forgotten posts that should see the light of day again. It is an honor to be chosen for this project.
To fulfill the obligation for this, I must link to 7 posts on my blog, using the following categories: 1) my most beautiful post, 2) my most popular post, 3) my most controversial post, 4) my most helpful post, 5) a post whose success surprised me, 6) a post I feed did not get the attention it deserved, and 7) the post I am most proud of. I addition, I am supposed to nominate to five bloggers to take part. (You can see the full list of participants here.)
Although you are not supposed to take a lot of time to come up with the links, I have well over 900 blog posts so it did take a while! And some categories were tough to narrow down. But I did it and here they are. I hope you enjoy them.
Here are the five bloggers I have chosen. In the spirit of this project, only two of them are cat blogs, but I think all of them are great. I know a couple of you listed don't usually do memes… which is why I have chosen you. This is not really a meme, but something more interesting and much bigger.
Covered in Cat Hair
Yes, it is Robin's blog where I discovered the kitty that needed rescue. Robin works very hard to save cat's lives, and does it on a regular basis. She is an amazing woman and I love her blog.
Mr. Puddy
Mr. Puddy is the funniest cat I know! I look forward to reading the blogs of all my cat friends every day, but I really look forward to seeing what is up with him!
Nanny Goats in Panties
This is probably the funniest non-cat blog I know about — and that is a big accomplishment! I mean, think about it: being funny without cats is pretty tough! Of course, the goats help.
The Maaaaa of Pricilla
Speaking of goats, I could not neglect my favorite spokesgoat, Pricilla. Especially when she has graciously allowed the cats who live at her farm to have their own day on her blog. Pricilla is my favorite non-cat quadruped.
Redhead Ranting
Jennifer is working with quite a handicap here: no cats and no goats. And she is still funny and fun. And smart too. All that is pretty amazing for a mere human.
* * *
---
---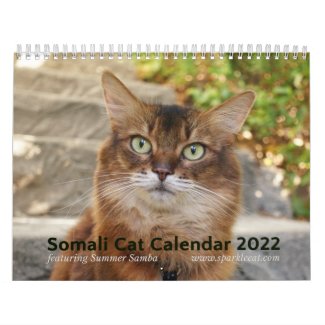 2022 Somali Cat Calendar Starring Summer Samba
See all of Summer's merch at her
her Zazzle Designercat Shop