Can you believe I spent a total of just 41 hours in Vegas, from the time my plane landed to the time I left for home? That was quick! But I got a lot done. I spent most of Saturday at the cat show.
The show was in the gym of the Henderson Multigenerational center. The entrance was above the gym, so my human was able to get a photo of the whole show hall.
I had a lot of fun meeting people! My human took a break early in the day to do some shopping for the giveaway that always accompanies Cat World Domination Day. The prize package apparently is going to have a running theme. Can you guess what it is?
The show ended on the early side because the CFA Southwest Regional Awards Banquet was that evening. I could see where the banquet was being held from our hotel room.
Since I don't compete anymore, my human just went to hang out with friends. My grand-nephew, Obi, was a winner, though! (You remember him, right?) He was 7th Best Cat in the region! Isn't he handsome?
When my human got back to our hotel room, she took me for a walk, which I always enjoy! I couldn't stay out too long because we had to get up early for our flight home.
We were up and at the airport before dawn, and we got home in time for me to have breakfast with Binga and Boodie. That was quick!
* * *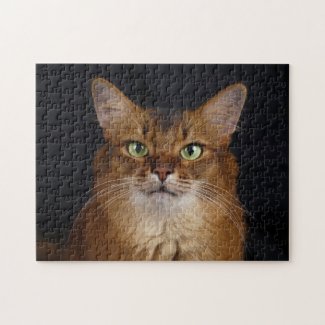 Somali Cat Photo Portrait Jigsaw Puzzle
See all of Summer's merch at her
her Zazzle Designercat Shop