Look what's here! My 2020 calendar is finally done, and I am previewing some of it for you today. I had so many choices that I didn't have room for some really fun photos… but I think you will like the ones I did choose.
Some of them are just simple poses of me outside.
Some are more elaborate photo sessions! I love this kimono, by the way.
Some of them are specific to a month. Like my wedding dress is for June. You can see the rest of the pages here. Binga's calendar is now up and you can find it here. I will show you some of the photos in a blog post later this week.
And yes, I am having a giveaway! And the winner can pick either my calendar or Binga's, and it's a worldwide giveaway. To start, just comment on this blog post here and say you did on the Rafflecopter widget. That will open up more ways for you to earn entry points. The giveaway ends next Wednesday, November 13. Good luck!
* * *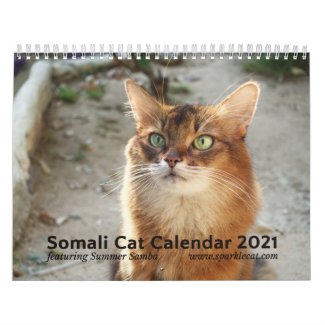 2021 Somali Cat Wall Calendar, Starring Summer
See all of Summer's merch at her
her Zazzle Designercat Shop