Thomasina, the Cat Who Thought She Was God

By Paul Gallico
After reviewing Cica's book, The Silent Miaow, I discovered that her translator, Paul Gallico, wrote some books about cats, and Thomasina is probably his most well-known. When my human brought it home for me to review, she was under the assumption that this was a children's book. Perhaps it is, but it seems to be written on several different levels, one for kids, one for more adult humans and one, of course, for cats. Thomasina is the story of a cat who resides in Scotland in the mid-1950s with a motherless little girl and her father. The father is a veterinarian who doesn't particularly care for animals and who doesn't believe in God, much less Bast (the cat goddess). The cat falls ill and instead of giving her a proper examination and treatment, the vet callously has her put to sleep. His daughter is so distraught that she becomes seriously ill herself. It's up to Bast and a mysterious, magical woman who lives in the glen to bring the cat back to life, save the little girl, and offer awakening to the cold-hearted vet. It's really quite a wonderful book, but I wouldn't expect anything less from an author who was so skillful in translating The Silent Miaow.
Thomasina was also made into a movie in the early 1960s,
and as a treat my human bought a copy of the DVD for me to watch. (She says she remembers seeing it as a child, and that it features the same kids who starred in Mary Poppins.)
They changed the era to 1912, and it's quite an enchanting film, with a particularly inspired scene involving Thomasina's visit to Bast. I sat through most of the film without getting distracted or bored, which is quite an accomplishment for a cat! So I highly recommend both the book and the movie.
* * *
---
---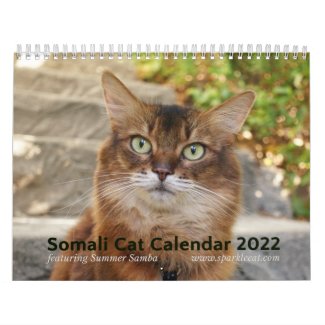 2022 Somali Cat Calendar Starring Summer Samba
See all of Summer's merch at her
her Zazzle Designercat Shop