No Dogs in Heaven?
By Robert T. Sharp, DVM
What is wrong with my human? Not only did she bring home a book with the dreaded word "dogs" in the title, the author is a veterinarian! Dogs and vets — my two least favorite creatures! And she wanted me to review it! I was going to chew on it instead, but I began to check it out… and you know what? It's actually a really good book! The vet guy left a city practice to take over a clinic out in rural southern Ohio, so I got to read about the experiences of a lot of farm cats, and a bunch of other creatures too! I'm not really sure what cows and pigs are, since I've never seen any, but this guy had to take care of them, along with the cats. And dogs too, I suppose — but I skipped over those parts. In any case, I got to see what life is like far, far away from the big city, and the author told his stories with a lot of warmth and humor. And since he saved so many cats' lives, I decided that he was okay for a vet. This was actually the first book I couldn't put down. I even fell asleep reading it. One thing I can tell you, however… in my heaven, there are definitely no dogs!
* * *
Check out my Valentine's Day Collection on Zazzle!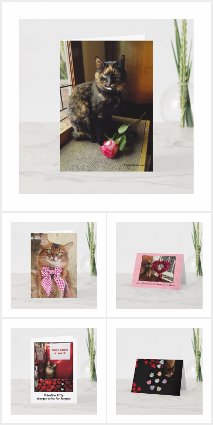 See all of Summer's merch at her
her Zazzle Designercat Shop