Making Rounds with Oscar
By David Dosa, MD
I made the same mistaken assumption about this book that I think a lot of humans have (and trust me, I am not thrilled with having a mistake in common with humans). I thought this was going to be a book about Oscar, the cat who lives in a nursing home and helps patients through their final dying moments. But it's not really about Oscar at all. It's about Dr. Dosa's observations concerning Alzheimer's disease and how it affects both his patients and the patients' families. Oscar is pretty much a coda to each story, only appearing when a patient dies. Although the doctor, skeptical at first, comes to believe that Oscar knows when a patient is dying, and even offers an idea or two as to how this kitty knows (hint: it has something to do with our fine sense of smell), he never even considers the obvious question — why Oscar has chosen this role for himself.
Normally I would be a little peeved about this and accuse Dr. Dosa (who does not even like cats) of using Oscar to draw people to his book, since cat books are so popular, and Oscar has made a name for himself in the press. There are no real cat stories per se, and it's clear that we kitties do not resonate with Dr. Dosa at all. But his book does a good service for humans who have to cope with Alzheimer's. It brings humanity to the disease and the stories behind the patients are interesting. So I can't really be mad at him. Just keep in mind that this is a book about Alzheimer's, and not really a book about a cat.
* * *
Check out my Valentine's Day Collection on Zazzle!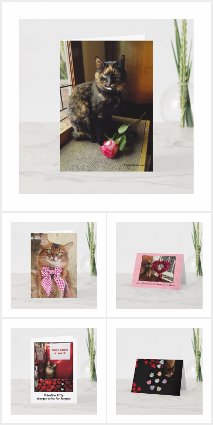 See all of Summer's merch at her
her Zazzle Designercat Shop