Dear Sparkle,
I live with my human and no other cats and I like it that way. Once she tried to bring home another cat and I wasn't having any! I refused to let that cat anywhere near the food or the litter box and she had to be confined to her own room so I couldn't beat her up. Finally my human took her away, much to my relief. So things have been fine until recently. There have been no other cats, but at least once a week, sometimes more often, I smell them on my human's clothes and hands. The weird thing is that it always seems to be a different cat that I smell! Often it's the scent of several cats intermingled. As you can imagine, I'm very unhappy with this. The moment that strange cat smell reaches my nostrils I growl, dash under the bed and refuse to talk to my human for a couple of hours. What is up with her? Where is she finding these other cats and why is she hanging out with them?
Signed,
Kitty-In-Chief
Dear K-I-C,
A little on the dominant side, aren't we? Some cats were born to be in charge; others were meant to be their own country. In your case, you seem to want your own universe! You not only refuse to live with any other cats, you don't even want your human around other cats when she's out and about. Although you realize there is a world of kitties out there, you don't want any of the evidence brought home. That is asking quite a lot of your human and I'll tell you why.
Most cats assume that there are two kinds of humans: cat humans and non-cat humans. But it's more complicated than that. There are different levels of cat humans. Some of them are happy with just one cat. They're most comfortable bonding with one special kitty and they don't need any others. Then there are multi-cat humans — those who need two, three or more cats to make up a happy family. Lastly, there are the cat hoarders, but they're strange and kind of scary and we don't need to discuss them here since your human is not one of them. She does, however, show signs of being a multi-cat human. She tried bringing another cat home and only took her away when it was absolutely obvious you would not accept her. So the truth is that you and your human are a little mismatched: you are vehemently an only kitty and she wants a clowder of cats.
I don't know exactly why your human keeps coming home smelling of other cats, but I have an idea. Since she's frustrated living in an only-cat home, she might be volunteering at a cat rescue or shelter. That would explain why she rarely smells like the same cat, and sometimes smells like several. Rescues always have cats coming and going, so she probably hangs out with different cats every time she's there. That's my best guess.
While I know you would like your human to cease whatever activity is bringing her in contact with all those other cats, maybe it's for the best. She gets her multi-cat fix and then she comes home to just you. She could be more considerate by washing up and changing clothes before coming home (more sanitary, too — who knows where those cats have been?), but you know you'd smell those cats on her even then. If she stopped rubbing it in by smelling to high heaven, and maybe bring home some catnip in the bargain, however, it would make a nice peace offering.
* * *
---
---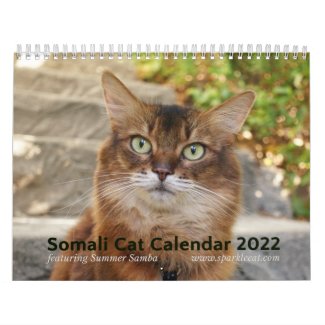 2022 Somali Cat Calendar Starring Summer Samba
See all of Summer's merch at her
her Zazzle Designercat Shop