Dear Sparkle,
After living at a cat rescue for six months, I have a new home, but I'm not sure I'm happy here. The humans are very nice and treat me very well — good food, treats, fun toys, etc. But there's another cat here and he hates me! Even worse, he's twice my size, even though we are both full-grown. Every time he sees me, he growls and yowls and chases me. If he manages to catch me, he bites me on the back of the neck until I scream, or until one of the humans sprays him with a water bottle (which usually gets me wet in the process too). This cat is making my life miserable. Most of the day I have to hide behind the dresser — he's too big to get back there. Sometimes I can get around while he's napping, if I'm quiet and don't get too near him. I hate living like this. Even with all the good stuff here, I am tempted to run away. Is there anything I can do?
Signed,
Picked On
Dear Picked On,
You've been thrown into a very unfortunate situation, but before you start heaping loads of blame on the cat who is bullying you, take a walk in his paws for a moment. He's probably been living there a while, and has arranged everything just the way he wants — his territory, his litter box, his scent marks and his humans — and you get tossed in the mix. He's freaked out. Suddenly nothing smells right, and he has to share everything with you, some cat he doesn't know and is not even sure he wants to know. Then every time he tries to show his frustration, he gets punished. Maybe you wouldn't act quite as violently in this situation as him, but you would still be extremely unhappy at this unexpected turn of events. The problem is that your humans, well meaning as they are, didn't understand that you and the other cat needed to be properly and carefully introduced. It sounds like they just brought you home, dumped you in the middle of the living room and expected everything to be fine — and of course it wasn't.
Humans don't realize that cats aren't supposed to just barge in on each other. Their introductions need to be properly orchestrated. We need to get used to the smell of a newcomer, get used to hearing her, and maybe see her in brief snatches from a distance before we come face to face. Smart humans will not only give the new cat her own temporary room, separate from the rest of the house, but they will also bribe the cat who's already there with treats and toys to make the new cat's presence more palatable. There are whole sections of books devoted to this topic and I've reviewed a few, including Cat Vs. Cat and Cat Wrangling Made Easy. If your humans wise up, they will return to square one and start introductions all over again for you two so that maybe the bully will learn to accept you into his household. If they don't do anything, there's a possibility he may come to tolerate you after a while — or maybe not. If he doesn't, I'd suggest you tough it out for a while instead of running away. Your humans sound like nice people, even if they did screw up bringing you home, so they won't let you suffer forever. If their cat refuses to accept you, they will most likely find you a new place to live, or at the very least return you to the cat rescue so you can find another home from there.
* * *
---
---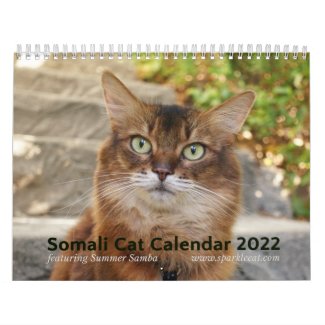 2022 Somali Cat Calendar Starring Summer Samba
See all of Summer's merch at her
her Zazzle Designercat Shop