Dear Sparkle,
I have to complain about my humans' schedule. They are always asleep during the best time for play, which is around 3 or 4 a.m. I do my best to get them up at this hour—I jump on them, run through the house, knock things off their nightstand, you know, the usual—but it never works. They just get mad and yell at me. I don't understand why they are such grouches. If I did the same to any cat, he'd be up instantly and ready to wrestle! It seems that all my humans want to do is roll over and go back to sleep. Is this because they are old? I am 3 and a half and I know they have to be at least ten times my age. I just thought that maybe humans aged slower than cats, since their life span is so much longer. Is there any way I can get these humans out of bed and excited to play?
Signed,
Frisky
Dear Frisky,
The biggest problem I see here is that you are expecting your humans to behave like cats, and that just isn't possible. Humans are not as tuned in to the world as cats are. They can't just drop down and nap at will. Their lumbering bodies are anything but agile. They place excessive importance on useless things like sitting in front of a desk and fiddling around with strange, uninteresting machines. Do you really expect such dull, graceless creatures to understand that 4 a.m. is playtime? It has nothing to do with age; it's human nature. I hate to bum you out, but it's better that you know what you're dealing with.
What you really need is a friend who understands about the important things in life, whose schedule more closely resembles your own. I am referring, of course, to another cat. If you had a roommate to pal around with, you wouldn't feel the need to get your humans up at what they consider an "ungodly hour." Of course, this will probably still happen since you and your friend will both be jumping on the bed, knocking things off the nightstand and running through the house. But of course, that's not your problem, and this advice column is for cats, not humans.
* * *
---
---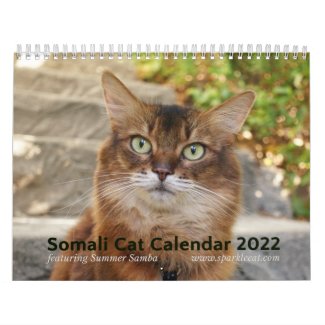 2022 Somali Cat Calendar Starring Summer Samba
See all of Summer's merch at her
her Zazzle Designercat Shop