Dear Sparkle,
My dream has always been to catch a bird. Being an indoor-only cat, this goal has always seemed out of my reach. All I could do was watch longingly out the window as birds flew past, perched on the trees nearby and—most frustrating of all—pecked around on the ground below the windowsill. A couple of times, they actually perched on the windowsill and stared right at me! You can imagine how crazy I went when that happened. But now I think I've finally got the chance to get my claws into a bird, and it's a doozy! My humans brought it home. This bird almost as big as I am, with a huge beak and lots of red, yellow and blue plumage. I am so excited! Got any good bird catching tips? And which part do you suggest I eat first, once I've caught it—legs or breast?
Signed,
Bonkers for Birds
Dear Bonkers,
Hold it right there! You really need to stop and think twice before going after that bird. You have no idea what you might be getting into. Seriously. Take a really good look at it, especially that powerful beak. Check out its feet. It's got claws that are longer than yours. This is no mere canary you are faced with. If I am not mistaken, your humans have brought home a type of bird called a macaw. Macaws are a particularly temperamental kind of parrot. Very noisy too, but I imagine you already know that. Macaws don't take lightly to cats who are looking for an easy meal and you are likely to run afoul (no pun intended) of that beak. A macaw will nip you—hard!—if you annoy it, and macaws annoy rather easily. Frankly, with a macaw in the house (especially a scarlet macaw, like the one your humans have brought home), I'd recommend that you watch your back.
In any case, going after a bird that obviously belongs to your humans is probably not a good idea anyhow. I imagine they would be less than thrilled if you did manage to take it down and have it for dinner. It probably cost them a lot of money (money that would have been far better spent on a new cat tree, frankly), and I don't think they intended it to be an expensive gourmet meal for you. They may even be emotionally attached to the thing, believe it or not! So I'm afraid your treasured dream will have to continue to go unrealized. But don't blame me—blame your humans. They're the birdbrains who brought the macaw home to begin with.
* * *
---
---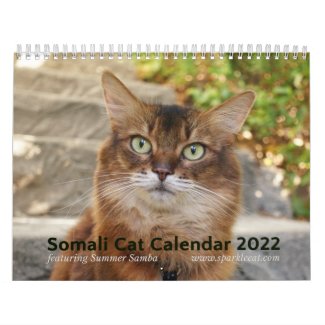 2022 Somali Cat Calendar Starring Summer Samba
See all of Summer's merch at her
her Zazzle Designercat Shop