Dear Sparkle,
I'm a cat with lots and lots of fluff—not unlike your roommate Boodie. As a result I am known to have hairballs on occasion. To me they're not that big a deal—I hack them up and it's over. But my human makes an issue out of it. Every time she sees one of my hairballs, she immediately grabs me and forces this vile gel down my throat. Of course I protest when she does this and the gel winds up all over both her and myself. Needless to say, shedding season is always an unpleasant experience for me since I get this gel forced on me even more frequently than normal. Do all human punish their cats thusly for their very natural hairball hacking habit?
Signed,
Puzzled, and Rather Annoyed
Dear Puzzled and Annoyed,
The hairball issue is a common quirk among humans. It's a bit mystifying, too—for some reason, it seems like they always try to force the hairball remedy down our throats after we've hacked up a hairball, when it's too late to do any good. Hairball remedy is what that distasteful gel is, by the way. It's supposed to make it so that we don't hack up the fur we've licked, and pass it through our digestive system instead. To be honest I too am not a fan of these gels. I find the taste incredibly repulsive. So does Boodie. Only Binga enjoys these hairball gels, and of course she's the one who is least likely to hack up hairballs.
So the truth—in the human's mind—is that we are not being punished at all, but being given medicine of sorts. The only problem is that it's awful tasting, pointless medicine. Maybe if you are lucky, your human will eventually discover that hairball remedies don't just come in tubes—they also come in crushable tablets and treats, which are far more palatable. There is also hairball formula cat food out there, but only the premium brands are worthwhile. You might let your human know that there is a way to prevent hairballs that doesn't involve shoving some vile tasting ointment on you. Maybe she could brush you regularly! Now, wouldn't that be a concept?
* * *
---
---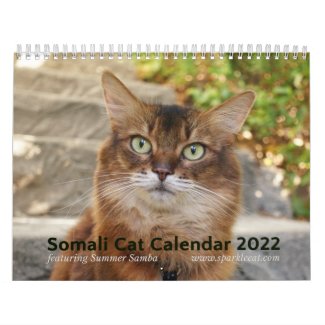 2022 Somali Cat Calendar Starring Summer Samba
See all of Summer's merch at her
her Zazzle Designercat Shop