Dear Sparkle,
I'm six months old and until recently I was living outside and having lots of fun visiting a lot of different homes and getting fed by lots of different humans. Well, one family of humans decided this meant I was "homeless" (which is weird—it was more like I had a half dozen homes) and they invited me to stay with them. Since they're very nice I thought living with them would be a good idea, but I'm not so sure at the moment. The female human came home the other day with this noose-like thing with a shiny metal object attached, and she stuck it around my neck. What an awful experience—I thought I was being strangled! I did somersaults trying to get the thing off. I finally slipped it over my head and I hid under the bed for the rest of the night to show my displeasure. From what I gather, this noose is called a "collar" and they're gonna try to stick it on me again. How can I keep them from torturing me like this?
Signed,
Messed With and Mad
Dear Messed With,
I hear you about the collar thing. I don't like collars either. In fact, I did a few somersaults of my own the first time my human stuck one on me. Only humans would think of putting collars on cats—I mean, look at them! They're always putting stuff on their own bodies. The clothes I can kind of understand—they need something to cover up with since they don't have fur. But their passion for things like bracelets, necklaces and rings is really beyond me. Humans seem to think that collars make us look more attractive. I have to disagree—we cats look just fine without them. Embellishments like collars are pretty much pointless. Well, except for one thing: that shiny metal object you mentioned. It's a name tag that identifies you as "belonging" to the humans who put it on you. That way if you get "lost" (in other words, if you decide to wander off for a few days to see if any other humans are offering better food), someone will be able to contact your humans to come and get you.
The name tag thing is a mixed bag. It's nice to know that you won't be identified as a stray and carted off to the pound, but on the other hand, if you try begging for food from strangers, they'll assume that you're already getting fed at home and might not offer you any snacks. And it certainly is annoying to have it dangling off your neck. But the alternative isn't too great either—instead of the name tag, your humans could decide to have you "microchipped," which means a vet shoots a little computer chip between your shoulderblades, and the chip has all your identifying information. Humans say the procedure is painless, but how would they know? I don't see them lining up to get a big needle stuck between their shoulder blades. So if you insist on removing the collar every time your humans put it on you, they may just cart you off to the vet's to get chipped. If your humans are really anal retentive, they may have you chipped and make you wear the collar and name tag, too. I don't know what to tell you, except to say that's what you get when you let humans "adopt" you.
* * *
---
---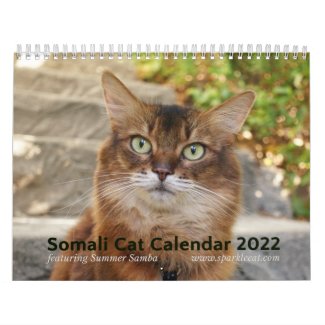 2022 Somali Cat Calendar Starring Summer Samba
See all of Summer's merch at her
her Zazzle Designercat Shop