Dear Sparkle,
I am so frustrated I am about to explode! But let me start from the beginning. I live in this big apartment complex with my human. I love looking out the window at all the goings on and I especially enjoy watching the birds. The only problem is a couple of those birds have decided to taunt me! They know that I can't get at them through the window screen, so they hang out and stare me down! It makes me crazy—I'll cling to the screen and yell at them but they just twitter at me. Grrrr! I want to teach those birds a lesson they'll never forget, but to be honest I have no desire to be an outdoor kitty. The outdoors, as far as I can tell, is a big concrete wasteland with a few strategically placed trees. So I prefer to stay indoors. Is there any way I can get at those birds without leaving the comfort of my cozy apartment?
Signed,
Royally PO'd
Dear PO'd,
When you said you didn't want to go outdoors to give those birds their well-deserved lesson, I thought at first that you were a bit of a wimp. But when you described your surroundings as mostly concrete, I can understand its lack of appeal. But there is good news—you don't necessarily have to venture into the concrete jungle to get back at those birds. The whole secret is in that handy window screen.
Window screens are actually wonderful things for us cats. We can enjoy nice breezes and outdoor views without all the dangers of the outdoor world. But even better, we can occasionally mold these screens to suit our needs. You may have noticed that when you claw at the screen, you sometimes create a few small holes. (When we do this in our home, it annoys our human to no end, but of course that doesn't stop us.) Have you ever thought about making those little claw holes just a bit bigger? How about making them big enough so that you can stick a paw through? Do you see where I'm going with this? If you make an arm-sized hole, the next time one of those birds comes flying around to annoy you, you just shoot your paw out and snatch him! Instant bird dinner. And believe me, after that, those other birds will show you a lot more respect.
If you are even luckier, you may not even have to snatch the bird—it may be stupid enough to actually fly through the hole all by itself. And once it's on your turf, it will serve as a fun play toy. Plus it will probably be too scared to figure out how to get back out again. The truth is that birds are not very bright. I mean, have you ever heard the term "bird brain"? Really, outfoxing a bird should be pretty simple for any cat. I'm sure that if you'd thought things through before dropping me a line, you would have figured out the solution on your own.
* * *
---
---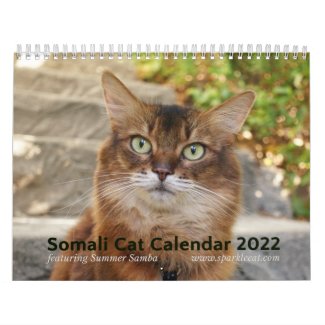 2022 Somali Cat Calendar Starring Summer Samba
See all of Summer's merch at her
her Zazzle Designercat Shop