Dear Sparkle,
I used to live in this really great house that was surrounded by a big land of adventure. There were loads of trees to climb, bushes to hide in and lots and lots of butterflies to chase and birds to catch. Then something happened—I'm not sure what the whole deal was, but all of a sudden, all the furniture in the house was packed up and they put me in the box they use to take me to the vet. Except I didn't go to the vet. I wound up in this different house, except it has all the same furniture as before. And instead of being surrounded by a bunch of trees and bushes and stuff, there's nothing but some patches of grass and a big street. My humans won't even let me outside—they say it's "too dangerous" for me. This just won't do! I want to go back to the old house or, failing that, I'd like to at least go outside here. What can I do to get my humans to let me out? Should I use their bed as a litterbox?
Signed,
Distressed
Dear Distressed,
It is no fun to move to a different home, especially when the new place isn't as nice as the old one. And it really sounds like you got the raw end of the deal here—you've basically gone from being Queen of the Jungle to living in a permanent lockdown. I don't blame you for wanting to use your humans' bed as a litterbox. That said, leaving a "surprise" on the mattress is probably not a good idea. This kind of behavior generally does not get the desired reaction out of the humans. They may wind up confining you even further, and that would make your situation even worse. I doubt they will let you outside.
From the information you have given me, it sounds like your new home has very little yard and is located on a busy street. Your humans are probably thinking that you do not know enough to stay out of the street, and that you will be run over by a car. Since I don't know you, I can't say if you are smart enough to stay away from cars or not. Humans are poor judges of cat intelligence, so they probably don't know either (although I dare say you are probably smarter than they think you are). That said, many thousands of cats are killed by cars every year, so your humans do have cause for concern. You don't go into great detail about your old home (except for describing the delicious plethora of butterflies and birds), so I really don't know what the car situation was like there. Did you see cars much, if at all? You may be more naive about cars than you realize.
Unless you are able to escape from this new, not-so-great home and find your way back to the old one (some cats have been known to do this), I'm afraid you are just going to have to endure living in diminished circumstances. That doesn't mean you have to accept your situation as an exiled Queen gracefully. Your humans should definitely pay for what they've done to your lifestyle. So if you feel like getting your jollies by climbing the curtains, pulling hunks of stuffing out of the couch, doing speed drills at 4 a.m. or knocking over your water dish right after it's been freshly filled, I say go right ahead. Hopefully your humans will figure out that these are the signs of a cat that needs more stimulation and will buy you loads of toys and maybe even a big cat tree or two. You had lots of fun running around outside and your humans had better make the inside of this new house pretty darn interesting. It's the least they can do for you.
* * *
---
---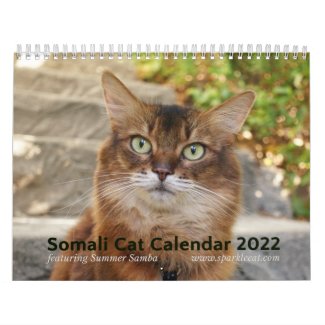 2022 Somali Cat Calendar Starring Summer Samba
See all of Summer's merch at her
her Zazzle Designercat Shop